News and Events
Welcome to the Central Manchester branch of CAMRA
News and Events
Latest Club News!
From our Regional Director, Ralph Warrington: - "I am pleased to announce that the Greater Manchester Regional Club of the Year, Dobcross Band Social Club, has made it through to the national finals. This was announced formally at the Club Mirror Awards Ceremony at Leicester on the 22nd November. The three other finalists are: Cheltenham Motor Club, Marden Village Club (Kent) and Parwich Royal British Legion (Derbyshire). The winner will be announced in Late January 2024."
In addition, the recently retired steward of Dobcross Band Social Club, John Holden, received a Long Service Award at the same ceremony for his 39 years of service, including looking after the cellar there so well.
"And last but not least, Phil Cowtan, the steward of Ladybarn Social Club, was judged the runner up in Camra's National Club Recognition Award, nominated by Stockport and South Manchester Branch."
Attached is a photo of the worthy recipients (including 2 of the Rochdale Oldham and Bury CAMRA members (aka as the Everley Brothers, centre stage). Dave Rigby, our Regional Press & Publicity Officer will be publicising these achievements widely.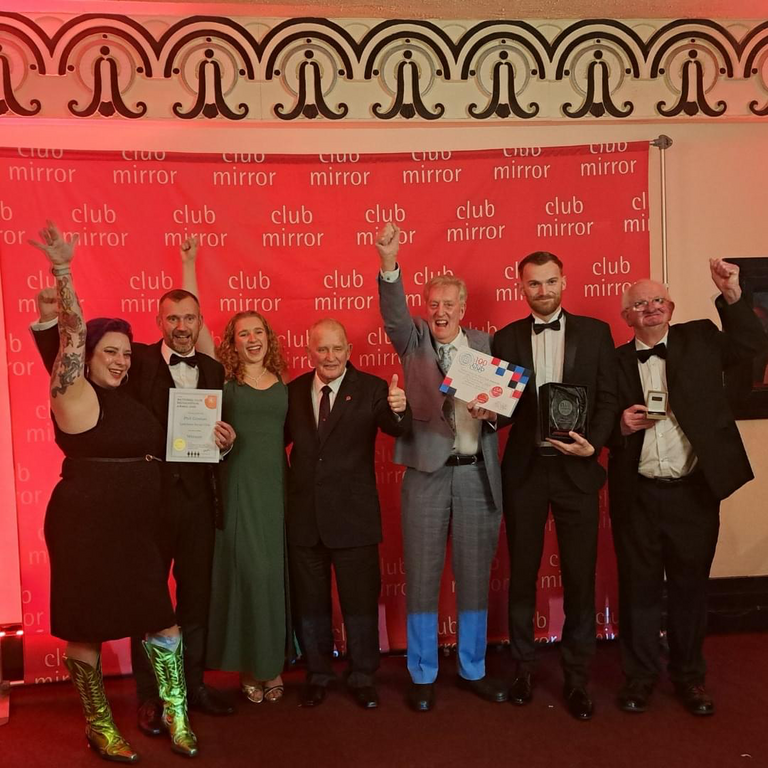 Latest Pub News
When you visit any pubs in the Branch area (or for that matter in ANY Branch!) make sure your score your beers on What Pub We need the scores to decide our entries for future GBG's.
Pomona Island's new Brewery tap North Westward Ho opened on 4th October
Victoria Tap (sister to the Piccadilly Tap) opened 10th October 2023.
Joey Holts have said that they are definitely investing in the refurbishment of the Shamrock Pub in Ancoats.
Other news - Big Trip Brewery are planning to open a Brewery Tap soon with special events running up to and beyond Christmas with plans to open the Tap permanently from Easter 2024!
Next Branch meeting.
The January meeting will be on 9th at 6.30pm in Town Hall Tavern and we will be taking nominations for our Pub Of The Year (POTY) and/or our Cider Pub Of The Year (CPOTY). If you think you know which pubs should be our POTY or CPOTY, you need to be there to nominate it!
Branch Socials
Our next Social is on the 6th December when we will be having our Christmas wander around within the "Beermuda" Triangle in the Piccadilly East industrial estate. We'll be meeting at Track Brewery Tap for 1830; then over to Cloudwater Unit 9 for 1930 and then to Sureshot Brewery Taproom for 2030 - which is located in the arches under Piccadilly Train Station. Who knows where else we may get to!
Festive jumpers/wear is not mandatory, but they are encouraged!